Inside Out Interviews Episode 03 : James Huyton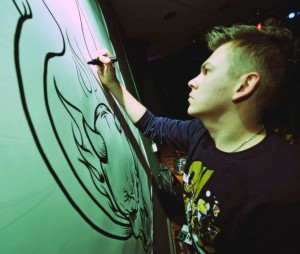 Meet the man behind Inside Out Records dark creations, our designer James Huyton.
1. Who is James Huyton ?
I'm and illustrator, graphic designer & northerner living and working in London.
2. I have noticed you have a very eccentric taste at your artworks. What is beautiful to you ?
The work I've done for Inside out is quite different to what I usually do. To be honest, every project I work on varies from one to the next. I'm not very good at doing the same thing over and over again that you find with a lot of illustrators. I prefer to find a 'tone of voice' or concept that suits the brief and develop a visual style from there. In terms of what's beautiful to me? Sunrises, butterflies, all that shit (I'm joking). Anything really. I like things that are simple I guess. Things that capture an idea in an visually effective way, but open enough for someone to find something new in it.
3. Do you see yourself in your artwork ? How ?
Not really. I'm more of a voyeur when it comes to my personal drawing style. I prefer to draw other things and other people. With that said, I think your always going to put something of yourself into your work, but I'm not really aware that I'm doing it. I do a lot a visual note-taking for workshops, and in that kind of work you have to use a lot of visual metaphors to capture ideas, so I guess my sense of humour comes out in that line of work.
4.What is your favourite material to use in the studio & why ?
I've been enjoying using inks with the inside out projects. Like I said its different to my usual way of working (I usually work in pens), so its been quite fun to muck about with that kind of stuff. Normally I don't anything messy, it gets everywhere, and ruins all your clothes, then you either knock your water tub all over your laptop or end up drinking it by accident. I think I probably like pens the most because I've got a very short attention span, so I quite like being able to just rattle an idea out as a sketch, or simple line drawing, and then move on to something else.
5. Whose work do you relate to most ? What inspires you ?
I really like the illustrator Noma Bar, he does that thing really well that I mentioned earlier about capturing ideas in a really simple way. I've always liked the work of David Kinsey and Mode 2 as well.
6. How did you come to work with Inside Out Records ?
I met Stevie R through a mutual friend. He'd seen some of my drawings, and asked me if I'd be interested in doing some work for the label. He was pretty open about the briefs, and seemed to like the stuff I presented, so we just went from there…
7. Where do you picture yourself ten years from now ?
Good god I hate these types of questions. I'll cross that bridge when I get to it, you never know where your going to end up and what your going to be doing.