Inside Out Interviews Episode 01 : Aki Bergen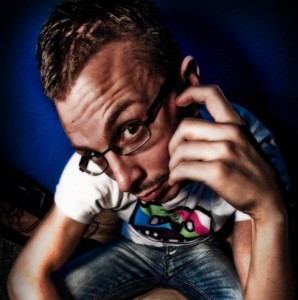 We met the amazing Aki Bergen and talked about his life, his career and his future plans, whereas he revealed to us the truth about the origin of his nickname !
1. Where are you from? Can you tell me a little about yourself, your musical development and how did you get into electronic music?
 I'm 100% Italian. Rome is my hometown but I also had the lucky chance to live abroad for a while, meeting nice and brilliant people while I was experiencing myself with different cultures and lifestyles. Like many of my generation, my first approach to music came through the radio. At the end of the 80′s my afternoons were divided between sport and hours spent listening to everything with an old radio of my parents.
At that time, electronic began to be very popular, it was the era of Detroit Techno and House Music from Chicago and New York, the DJ's started to become points of reference for those who want to listen to alternative music selections – radio programs (along with some video clips) were the best way to approach, at least emotionally speaking, in contact with that world.
From that moment on, it was the beginning of the end! I can candidly say that I was mildly obsessed by "how" I could create those kinda melodies and beats as well. I wondered, how can I make that stuff?
This question was stuck in my mind for a few years to follow, then some lucky encounter and maybe some risky choices, led me to make a dream come true. In my case, I always wanted to live off of music but in 15 years of career by now, there have been several hard moments and I thought many times to drop everything. Fortunately it was not like that, there has always been an invisible force that attracted me in that one direction which is still my life.
2. Where does the name Aki Bergen come from?

In the past, I answered to this question in many different ways. It was funny to invent mythological stories about the dark origins of my name but now it's finally time to reveal this secret once for all! So, a few years ago I was surfing the web, looking for a new synthesizer to bring at studio (I'm addicted to keyboards and compressors as well) when I bumped into an acronym which was A.K.I. – I didn't have a clue of the meaning but I said myself "hmm Aki sounds good, will take it for something but I need a surname".
After a few minutes Aki Bergen was born therefore I would say it was a blind chance.
3. How would you describe Aki Bergen sound? What are your influences ? 

I have never used a tag to describe my musical style.
Undoubtedly the Techno and Drum & Bass trend of the 90s has marked my first productions since 1997. From Derrick May passing through Aphex Twin and Jean Michel Jarre I tried to build my first own musical identity, then finding out to have many more. I've always lived the music as something infinite, therefore not easy to label.
The music is simply (not so easy to tell the truth) music.
You can call it Deep House, Tech House, Nu Disco and so on so forth but everything comes from how we are able to perceive that which we're listening to and how everyone is related with it.
4. Let's talk about "Respect" EP. Why did you feel the need of composing it? Do you feel that people have forgotten what respect is nowadays?
Probably, this is something that we have been losing since years.
I'm very critical about it as I reckon that making music is a real job, not a joke. Nowadays everybody wants to be a dj and everybody wants to be a producer – we have starlets, former booking managers, football players, topless ladies, guys with no talent and any f***ing knowledge about music production but all of them want to be somebody. We are completely surrounded by low quality tracks and it's getting very hard to recognize the good from the bad.
I remain of the view that everyone should do its own job and wouldn't consider myself credible if tomorrow morning I should wish to pilot the shuttle!
DJing, writing music, mix a track, record an album, promote an artist, play the oboe, sell the fruit or lap dancing, they are all different jobs that deserve equal respect but being repetitive, we cannot expect to be able to do everything. I realize that writing crap on Facebook or travel the world with dirty hair is definitely more cool than being behind a desk, but that does not necessarily mean to have something to say, musically speaking.
I think an artist should be judged, praised and criticized (mostly) for its own works, not for Twitter followers or if he/she posts the food eaten for breakfast. Mine is a strictly personal opinion, but many pseudo-professional artists do not even know what the Decibel is, let alone talking about how to make a real song.
In the end, "Respect" means having the courage to say NO: this is not enough good for the market, it doesn't fit some quality standards, it's not enough to put some loops together and send it to the labels.
I wish something changes as time goes by. Every pros should fight for this, after studying and making sacrificies for years.
5. Is there anyone out there that you haven't worked in the studio with,but you would really like to?

There still are many outstanding artists outside with I'd love to work with but my first thought goes to Martin Dawson who was one of my favorite for years. My song "Respect" is also dedicated to him and to everything he has done for the underground music.
6. What do you have in the pipeline for 2013, what should we expect from Aki Bergen?

I don't know where to start! As you can imagine, music for me is certainly not a passion, but a true religion, so I do make music every days of my life. At present, there are in the pipeline many new EPs and collaborations with special guys such as Daniel Jaze, Djuma Soundsystem, The Lazarusman, Reno Ka and Ken Rosen just to name a few. Also I'm quite honoured to put my hands remixing on several great tunes by Osunlade, DJ Spinna, The Layabouts, Stevie R & Ian Makenie and many more. I know I keep things vague but can assure you're not gonna be disappointed. So how do the very cool dj's use to say? Oh yeah, stay tuned!
7. What is your tip for upcoming artists?

Don't stop to be curious. Try to go beyond one's limits and keep studying forever and ever. You won't become a pro with zero knowledge. Always be proud of yourself for each little step ahead.
8. What is your ideal picture of happiness?
Living my life is a true gift. I'm not going to ask more than keep living this way.